In 1985, newly elected General Secretary of the Communist Party, Mikhail Gorbachev, started the anti-alcohol campaign. This quick and intense campaign attempted to solve a problem that had been effecting Russia for hundreds of years: alcoholism. Today I want to give a little background of the problem, how it effected the Soviet Union both socially and economically, and why it eventually failed.
Drinking in Russia
It seems that whenever I think of Russia, Vodka always comes to mind. It is interesting how we make such a strong association between a country and a drink but there is a reason for it. Alcoholism has plagued Russia for quite some time. V. A. Bykov wrote an article about the problem in 1986. He spoke of eleven factors that he think set up society to be so inclined to drunkenness:
The leisure interests of unskilled, poorly educated workers — especially the vast army of maintenance workers — are limited to drinking, "shooting the breeze," and playing cards and dominoes.
With the five-day workweek, available leisure time has increased for most workers to about 100 days off per year; students have even more. And many workers' shifts end at 4 p.m.
The traditional Russian three-generation family, with its close supervision of all members, especially the young, has disintegrated. Separate apartments, social boon though they are, have the disadvantage of isolating the nuclear family from the broader community; a wife alone cannot keep her husband away from negative influences. The day has passed when this role was performed by the extended family, relying on the authority of its older members and the threats of the church, which wanted the family's coins in its coffers, not swallowed up by a tavern.
The high wages paid for unskilled labor paralyze workers' desire for vocational growth and further education.
Wives are so overburdened with housekeeping and child care that husbands rarely spend leisure time in their company. As a result, spouses' interests begin to diverge, and the men seek diversions outside the family and out from under their wives' control.
The population of some areas of the country is disproportionately male (the Far North, construction sites, etc.) or female ("textile towns," etc.) — one result is more opportunities for heavy drinking.
Influenced by the poorly organized work flow and the penchant for a clean record of achievements on paper, work supervisors tolerate employee misbehavior. Bosses often close their eyes to absenteeism because they know they can draw upon the errant workers later for rush work and overtime. Having misbehaved yesterday, the workers will willingly work overtime tomorrow and thereby cover up gross supply problems and blunders made by the administration itself.
For several decades, job performance was emphasized to the detriment and even exclusion of moral criteria in appraising the individual, and public opinion in turn came to reflect this undue tolerance of immorality. Such excessive rationalism inevitably allowed certain negative behavior traits to take root. This lopsided value system is steadily but slowly being supplanted by a more balanced one.
Upbringing work failed to deal adequately with the acuteness and complexity of the processes that occurred in public awareness in the late 1950s and early 1960s, when the Party redoubled its struggle for strict adherence to socialist legality, state and Party norms and the principles of collective leadership. Failures of upbringing have taken new forms now: The school and the family are not dealing well enough with the contradictory influences that bombard young people hourly.
Urbanization is a major trend, bringing with it high stress and the need to relax, overcome one's sense of anonymity and "be somebody" in a small group. By virtue of many of the factors listed above, most such groups form by chance rather than through work-related interests, and their members rapidly turn into drinking buddies.
The personal responsibility of each member of the rural population for production performance has been reduced. The often unwarranted practices of supplanting rural workers with city residents and supervising their every step have altered many rural residents' work attitudes. The enormous advantage of a planned economy, which saved the rural population from starvation in the years of the worst harvests, has also created loopholes for idlers confident that society will always take care of them without even asking what they have contributed to the common effort. And where rural labor was badly organized an irresponsible attitude developed, vast stretches of "free" time appeared and an opportunity for heavy drinking opened up.
These eleven factors are mostly summed up with there being too much free time, not enough to do, no motivation to pursue a better career, and a system that tolerates misbehavior and does not reward good behavior. Bykov claims these are not reasons for drunkenness but how they almost pointed society towards a "tolerance" of it.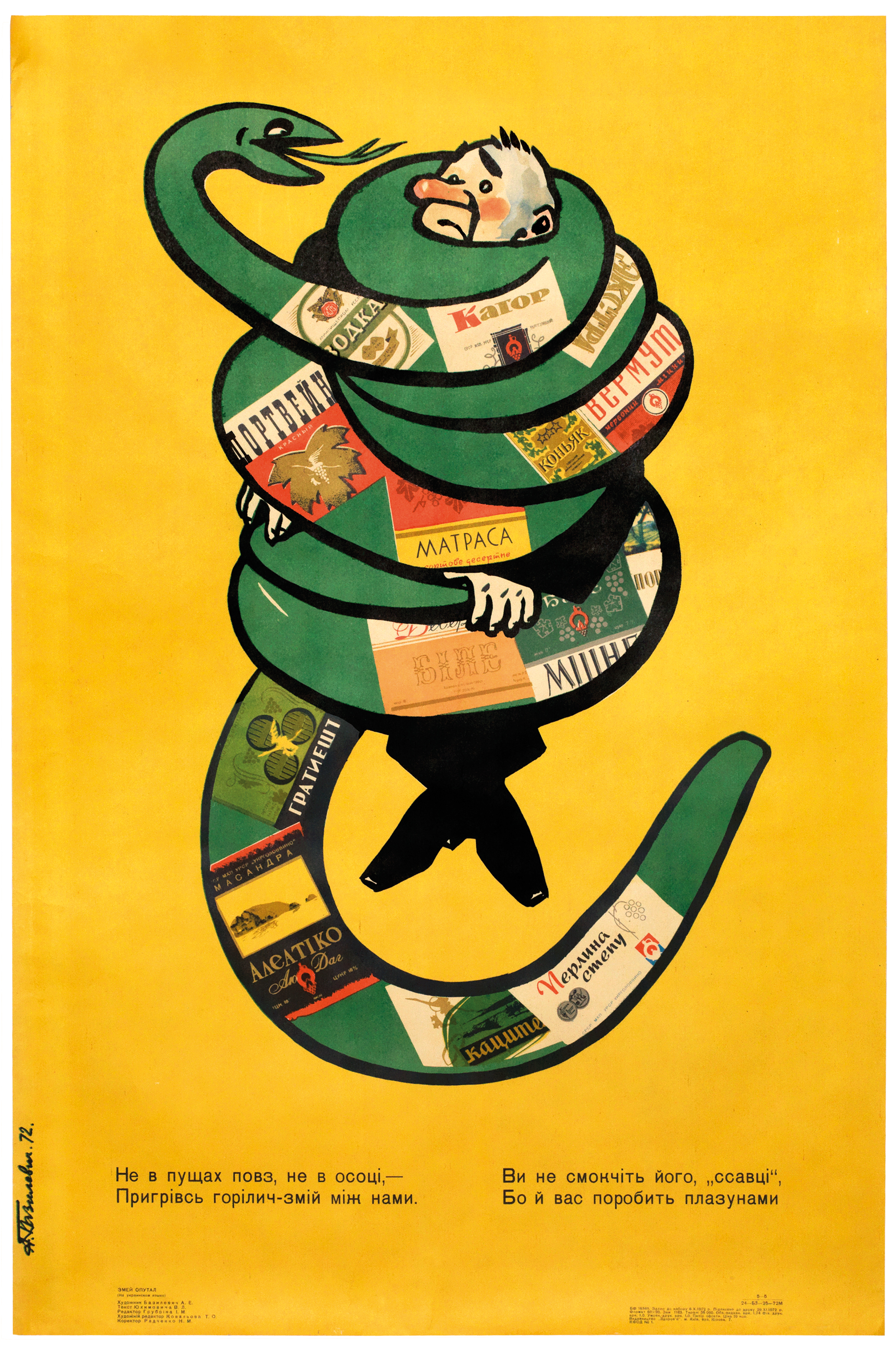 How it affects society
There are many ways that alcohol negatively affects society. In an article he wrote,  I. Zakirov talks about how drunks are destroying parks and damaging property. A woman he interviews speaks of how she is scared to go to the park now that a liquor store opened up next to it. She claimed that the drunks would go to the liquor store and then go to the park and break bottles and trample down the flowers. Alcoholism also has adverse effects on the society due to what it does to people's health. E. A. Babayan, an official of the USSR Ministry of Public Health, conducted a study that showed the average life expectancy for drunks was 55 years old, 20 years lower than the average life of any given individual. In 1982, 800,000 soviets lost their driver's licenses due to drunk driving. In 1984, a study showed that 270,000 burning accidents happened due to drunkenness (Bykov). The Soviet Union also battled against tuberculosis during this time period. A large portion of medical spending was spent towards the research and treatment of tuberculosis. A study showed that drunks were 16 to 18 times more likely to get tuberculosis than those that did not drink. Tuberculosis was also much more severe for those that drank (Yu). I found article after article speaking of terrible stories of suicides, alcohol poisoning, and accidents due to drunkenness. Alcohol seemed to be taking over society (Yaskov).
Economic Effects
Not only did alcohol have a negative effect on society, it effected the economy as well. Alcohol plays a huge part in the Soviet economy. In 1979, more money was acquired from indirect sales tax on alcohol than was acquired from income tax (Geldern). However, alcohol hurt the economy just as much. Prof. B. M. Levin estimated that at least 1% of the entire Soviet workforce does not show up to work on any given day because of drunkenness. He also showed that productivity goes down around holidays, after paydays, and after weekends. If you do the math, there are more than eighty work days that have about a 15% to 30% decrease in productivity. This amounts to about 7 billion rubles a year just from low productivity. There are also a lot of indirect effects that drunkenness has on the economy. Costs such as repairing machinery damaged due to drunkenness, defective products, healthcare, education for their mentally challenged children, and even the expansion of law enforcement due to the rising rates of alcohol influenced crimes (Bykov).
The Ban
Gorbachev's anti-alcoholism campaign went in to effect in 1985. It immediately funded the destruction and punishment of home-breweries, limited the places alcohol could be served, banned restaurants from serving alcohol before 2 p.m. and raised the drinking age to 21 years old (1985). The campaign also called for the opening of more rehabilitation clinics, and types of "drunk safe-zones" where drunks could go instead destroying property or going home to assault their wives and children (which was also a very big issue) (Fedotov). The ban saw initial success on paper with a 62.7% drop of state alcohol sales between 1984 and 1987. The death rate in the Soviet Union dropped for the first time in 20 years in 1985 and 1986. Statistics would say that during the five years the campaign was active, over 1 million lives were saved. However, the campaign did not last. Home breweries became more and more prevalent, and due to the illegal breweries, the 62% drop in state sales only equated to a 25% drop in consumption (Aleksandr) (Sidirov). This is still a huge deal, but it wasn't enough. Gorbachev realized that to solve the issues of alcohol, he had to change society as a whole. The campaign bit off more than it could chew, and eventually it cost more money than it was worth (1986). So for the sake of a bad pun, raise your glass, and pour one out for Gorbachev and his valiant efforts at making Russia a better place.
Citations
A. Sidorov. (1985, February 13). ALCOHOL IS SOCIETY'S ENEMY: VILLAIN WITH NO STIGMA. Current Digest of the Russian Press, The . Retrieved from https://dlib.eastview.com/browse/doc/19987537
Aleksandr Nemtsov. (1993, October 6). DO PEOPLE DRINK A LOT IN RUSSIA?. Current Digest of the Russian Press, The . Retrieved from https://dlib.eastview.com/browse/doc/13615163
A. V. Fedotov. (1977, March 23). SOCIAL PROBLEMS IN THE STRUGGLE
AGAINST ALCOHOLISM. Current Digest of the Russian Press, The . Retrieved from https://dlib.eastview.com/browse/doc/13632020
(1985, June 12). IN THE CPSU CENTRAL COMMITTEE: ON MEASURES TO OVERCOME DRUNKENNESS AND ALCOHOLISM. Current Digest of the Russian Press, The . Retrieved from https://dlib.eastview.com/browse/doc/19988401
(1986, August 6). IN THE CPSU CENTRAL COMMITTEE'S PARTY CONTROL COMMITTEE.-ON SERIOUS SHORTCOMINGS IN IMPLEMENTING THE CPSU CENTRAL COMMITTEE'S RESOLUTION ON OVERCOMING DRUNKENNESS AND ALCOHOLISM IN THE BASHKIR AUTONOMOUS REPUBLIC. Current Digest of the Russian Press, The . Retrieved from https://dlib.eastview.com/browse/doc/19992672
Geldern, J. (2015, September 2). Anti-Alcohol Campaign. Retrieved from http://soviethistory.msu.edu/1985-2/anti-alcohol-campaign/
I. Yaskov. (1985, June 12). ALCOHOL IS THE ENEMY OF SOCIETY: DON'T STEP INTO THE ABYSS. Current Digest of the Russian Press, The . Retrieved from https://dlib.eastview.com/browse/doc/19988371
V. A. Bykov. (1986, February 12). SEEING THE PROBLEM IN ALL ITS COMPLEXITY. — SOCIAL FACTORS INFLUENCING DRUNKENNESS AND ALCOHOLISM. Current Digest of the Russian Press, The . Retrieved from https://dlib.eastview.com/browse/doc/19990862
Yu. Fisher. (1985, September 18). ALL TOGETHER AGAINST DRUNKENNESS: A TERRIBLE AILMENT. Current Digest of the Russian Press, The . Retrieved from https://dlib.eastview.com/browse/doc/19986995